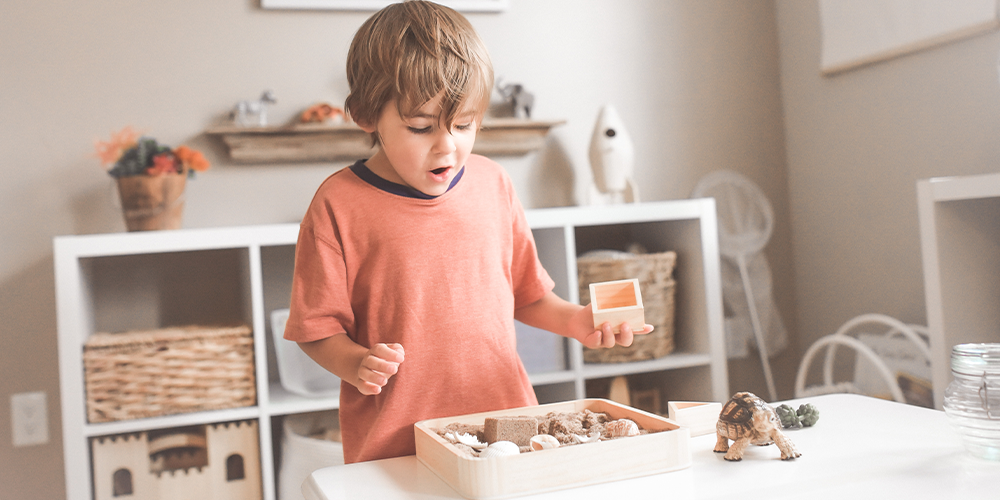 DHA : An indispensable for our small ones
Difficulty concentrating, mood swings? Have you considered omega-3 with its high concentration of DHA?
Has your child been having difficulty concentrating and remembering, showing signs of anxiety when doing homework or having trouble falling asleep on school nights? If you're at a loss on how to help, consider omega-3. It is a good natural solution to help their learning and, more specifically, to provide a daily intake of DHA.
The body doesn't produce omega-3, but these fatty acids are essential to your child's brain development and proper cell functions.
Did you know?
+ In 2015–2016, a total of 240,535 people under the age of 25 were diagnosed with ADHD in Quebec.8
+ ADHD is a multifactorial disorder, and the number of people who have it has been increasing for several years. It is now considered a phospholipid disorder.  The most well-known causes are blood sugar, poor fat management, poor diet, unsuitable lifestyle and genetic factors.
Pediatric mental health
It has become increasingly prevalent in Western society that children of all ages can experience depression and stress related to academic and sports performance. More and more research on children and omega-3 fatty acids is now available.
The symptoms include altered emotional behaviours such as impulsivity, aggression, depression, anxiety, and behavioural disorder traits. There is a growing body of evidence linking behaviour and attention issues specific to ADHD to omega-3 fatty acid deficiency.1
Studies by Gow et al., for example, reported that children presenting with lower plasma and blood levels of omega-3 fatty acids, particularly DHA and EPA, presented with symptoms related to ADHD, such as abnormal emotion processing, as well as antisocial behaviour.1
DHA on your plate
Food
The Japanese consume fatty fish that provide an average of 1,000 mg per day of omega-3 fatty acids. For Europeans, the average is as low as 100 mg per day. The average Western diet contains an abundance of omega-6 (polyunsaturated) fatty acids, which can disrupt the body's brain and cellular function.
Always at the forefront of innovation, Herbasanté has introduced a very special product to the Canadian market that stands out from all its competitors. Extracted from small fish from the very cold, salty waters of the Scandinavian fjords, Neuromega Kids contains a high concentration of DHA, the component of omega-3 that specifically targets the neurosphere.
This omega-3 formula not only stands out by its high concentration of DHA, but also because the extraction and filtration process makes it more liquid and less viscous, thus more pleasant to swallow and easier to digest. Moreover, kids enjoy its orange flavour with no fishy aftertaste. Those of a certain generation may remember having to take cod liver oil. However, times have changed, much to the delight of both children and parents. Neuromega Kids—it tastes great!
Taking half a teaspoon every day has two important effects. The first is to help regulate mood; the second is to help improve the symptoms of cognitive disorders, behaviour disorders, autism spectrum disorder and childhood depression.
For parents
HERBASANTÉ offers another product extracted from the sea that helps brain development.

CELL-A-VIE. Very rich in brain phospholipid precursors, Cell-A-Vie has great benefits. Since it is in powdered form, it is much better tolerated by adults who have trouble digesting oils, such as fish oils.
It is an excellent natural alternative to fish oils.
The importance of getting young children used to eating foods that positively affect their cognition cannot be underestimated. These foods include: fatty fish, antioxidant-rich fruits, cruciferous vegetables, iron-rich meats, legumes, nuts, wheat germ and brewer's yeast.
References:
Omega 3 fatty acids in brain and neurological health, Ronald Ross Watson

Vitamin D and the omega-3 fatty acids control serotonin synthesis and action, part 2: relevance for ADHD, bipolar disorder, schizophrenia, and impulsive behavior, Patrick,R.P. Ames, B.M Vol 29, June 2015

Uauy et al., 2000, Carlson, 2001

Richardson et al. 2000a; 2000b

Aı¨d et al. 2003

Richardson et Montgomery 2005
Photo: P.Cody/Unsplash